Introduction
In 1998, when Professor Joachim Lueckel and his team designed the Triplanar 6-DOF parallel robot at the Mechatronics Laboratory of Paderborn University, Germany, they had primarily machine tool applications in mind. They expected their Triplanar powered by three 2-DOF planar motors in the x-y-plane to become as successful as the well known Gough-Stewart platforms because of the mechanismís high stiffness and large working sphere.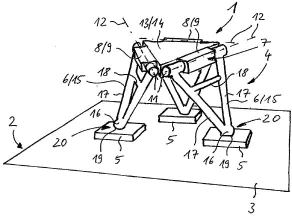 Fig. 1: The Triplanar (source: German Patent Application DE 199 20 776 A1, 1999)
The first prototype inspired by Professor Lueckelís invention is, however, far from commercialization. In 2006, ARCERA Mechanik GmbH, a small engineering company based in the west of Germany near Aachen (Aix-la-Chapelle), launched a unique watch winder dubbed ROBO 003, which is based on the principle of the Triplanar.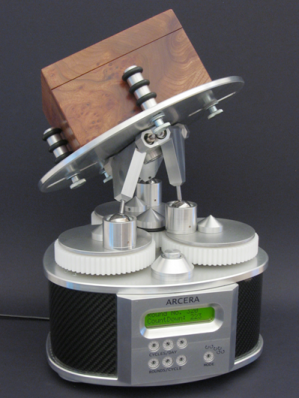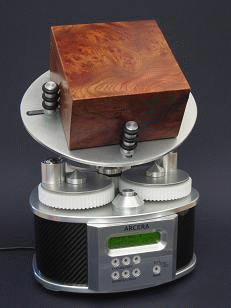 Fig. 2: The unique watch winder ROBO 003
The market for collector's wristwatches has become very strong during the last decade. Most of these timepieces are equipped with mechanical movement including a self winding mechanism. Numerous companies offer so-called watch winders with simple rotary drive to put the watch on and keep the self winding mechanism working when the watch is not in use. But what if one likes to store one's valuable collectorís watch in the elaborate box typically delivered with it and still keep the movement running?
The ROBO 003 just sways the whole box on top of a smoothly wobbling platform. In order to achieve a nice appearance of the mini robot without gimbals, the platform is supported by a Triplanar-style mechanism. The three 2-DOF planar motors are substituted by three gear wheels synchronized by a center gear wheel, which reduces the degrees of freedom of the mechanism to one. Enough to generate the smooth wobble motion of the platform and keep the watch running inside of its box.
Related Links